Golf is a game of talent and practice, but that doesn't rule out the use of technology to help you better. You can more correctly estimate the distance to the green with the best golf rangefinder, so you always know how to select the best club. But how can you choose the right rangefinder for you?
We compared hundreds of the best golf rangefinders based on features such as accuracy, maximum range, and magnification. All of these variables play an important part in determining the size of the hole. We looked at whether a rangefinder could measure slope angle, if it was waterproof, and how much it weighed.
Review of the Top 5 Golf Rangefinders in 2022
1. GolfPro™ Golf Laser Rangefinder With Slope – 6X Professional Precision Laser Golf Rangefinder – Best Rangefinder for Accuracy
Price: $99.99 $159.99
FEATURES
Magnification: 6x Slope: yes
Accuracy: ±1.65 ft
Max. range: 660 yd
Scan mode: yes
Size: 4.3 x 1.5 x 2.5 in
Weight: 5.8 oz.
Other features include Time of Flight technology, flagpole lock, speed measurement, rechargeable battery, and hardshell casing.
Consider GolfPro™'s precision laser rangefinder if you value accuracy above all else. The rangefinder is accurate to within 1.65 feet at distances up to 660 yards, which is only equaled by our Editor's Choice selection from AOFAR.
The usage of time of flight technology, which calculates how long it takes a laser to reach its target, contributes to this unit's precision. The completely multicoated 6x lens will also help you view your target more clearly. Once you've trained your eye on the flag, this rangefinder can lock onto the target and provide an extremely precise distance measurement.
A slope angle measurement is also included with this rangefinder, which is a wonderful feature. The slope-adjusted distance helps you to have a better understanding of how a hole will play, allowing you to choose the best club for the job.
The scan mode is also useful for estimating the distance between various hazards on the fairway at the same time. What makes it unique? This rangefinder is incredibly small and lightweight. Most users can comfortably handle it with one hand, and because it weighs less than six ounces, it's easy to forget it's in your golf bag.
What drawbacks did we discover? Although the rangefinder is described as waterproof, customers have reported that when it rains, water can leak into the casing. While the rangefinder should be good in mild rain, it may not be able to withstand a deluge.
2. Bushnell Pro XE
Price: $549.99
The Pro XE is Bushnell's top-of-the-line rangefinder and the finest rangefinder we've tested.
The previous model, the Bushnell Pro X2, was outstanding, and it does have some advantages over the XE, such as being lower weight and having a better aesthetic.

The Bushnell XE, on the other hand, takes home the prize for being the fastest and most accurate golf rangefinder we've ever tested, as well as having incredibly bright and clear readings and a novel magnet function that attaches to anything from a cart to an iron (which was surprisingly handy).

They've also taken the slope calculation a step further by factoring in temperature and barometric pressure to give you the most realistic "plays like" distance imaginable.

At $550, all of this technology isn't cheap, but wow is this thing nice.
3. Bushnell Tour V5 Shift Slim Edition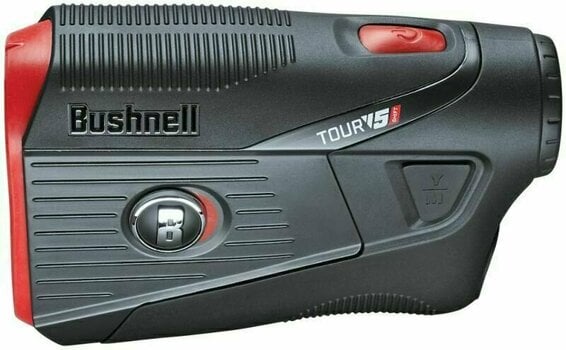 Price: $399.99
Bushnell claims to have created an ergonomically built laser that fits snugly into the palm of the hand and produces "the minimum of disturbance while acquiring a target" by shifting the V5's battery housing to the rear of the unit and slimming down the outer casing.
With a new, enhanced slope algorithm and Slope-Switch Technology, the Tour V5 Shift Slim Edition is accurate to within one yard. It has a range of 1,300 yards (400+ yards to a flag) with a magnification of six times.
Bushnell's PinSeeker with Visual JOLT Technology has been upgraded to add a red ring that flashes when JOLT vibrates to offer players with even more feedback and confidence when they have latched onto the flag.
Golfers may securely connect their rangefinder to a golf cart or trolley using the built-in BITE technology. With a draw strength of 7lb, golfers can be certain that their rangefinder will remain put.
Rainproof, the Tour V5 Slim Edition includes a luxury travel case, three-volt battery, two ball markers, and a three-volt battery.
4. GolfBuddy aim L10V with voice & slope
Price: $199.95
The world's first talking rangefinder is the Golfbuddy aim L10V with voice and slope. It functions similarly to a standard rangefinder, displaying yardage on the LCD screen, but there's also a voice button on the side that, when hit, causes the machine to read out the measured distance.
It's not just a gimmick; many senior players are put off by rangefinders because they find reading the calculated distances difficult, so the GolfBuddy speech function might be crucial.
The Golfbuddy aim L10V has 6x magnification, vibration to indicate target lock-on, and slope settings that may be turned off for competition rounds, in addition to the speech function.
If you prefer your rangefinder to remain silent, it's also available without the voice feature.
5. Callaway 300 Pro Laser Rangefinder
Price: $299.99
Callaway may not come to mind when considering the finest golf rangefinder brands. However, it turns out that they produce some of the greatest rangefinders available.
The Callaway 300 Pro is one of their most popular models, with year-after-year sales exceeding expectations. On Amazon, the item has a 4.7/5 average customer rating and over 3600 reviews.
Pin Acquisition Technology and Magnahold for fastening the device to your cart frame are among the new features of the 2021 model. The 300 Pro is comparable to the Bushnell Tour V5 in many aspects, however it is less expensive.
Features
With a weight of 0.34 pounds and dimensions of 2.7′′ x 4′′ x 1.4′′, the Callaway 300 Pro is lighter and more compact than its predecessor.
Pin Acquisition Technology (P.A.T.) with Pulse, a new feature of the 300 Pro, offers a rapid vibrating burst to ensure that you've locked onto the flag.
Magnahold, a powerful inbuilt magnet that can be used to fasten the rangefinder to the cart frame, is the next noteworthy feature of the 300 Pro.
Slope capability is included in the Callaway 300 Pro rangefinder, which automatically adjusts distances for elevation changes. This mode may be disabled at any moment, making it acceptable to use in tournaments.
0.34 pound weight
5-1000 yard range
6x magnification
Within 1 yard of accuracy
Tournament Legality: When Slope Mode is switched off, it is legal.
We think the build quality and optics aren't quite as impressive as the Tour V5, but it's still a great deal since you get much of the same features plus slope functionality.
The 300 Pro's accuracy is exceptional for the price, and it's also resistant to rain and fog, which is a pleasant plus.
Summary
The golf course is one of the few locations where you can easily detach for a few hours within a few hours of home, no matter how hard the daily grind gets. Even if you're only playing an after-work round at the local course, stepping onto the links feels like you're on vacation.

Though golf gives the appearance of being locked in time, technology has penetrated the fairways, and laser rangefinders are the newest item that every golfer wants in their bag. The days of utilizing maths to determine shot distance are long gone.
We used to have to look for a sprinkler-head marker with a yardage stamp, walk off the steps to our ball, and then add or subtract to figure out how far away the green was. Life has become so much easier. Simply take out your rangefinder, point it at the flag, and the distance to the pin appears before your eyes. This is not only a far more convenient and relaxing method to play, but it also delivers much more precise measurements. In principle, this should result in a poorer grade.
Adding the best golf rangefinders to one's golf bag might assist even the most inexperienced player. Not only does having a gadget that can offer an exact yardage reading improve shot accuracy, but it also saves tens of minutes every round by providing you with the information you need immediately.

The GolfPro™ Golf Laser Rangefinder With Slope is our pick for the finest golf rangefinders. As an affordable golf rangefinder, it allows you to effortlessly carry a long-distance reading gadget in a side pocket of your bag without adding any additional weight.